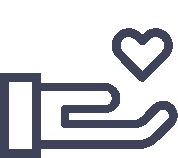 EXPLORE ALL THE WAYS TO GIVE
God loves a cheerful giver. Generosity is in the DNA of the Christian faith. If you're visiting our church, we have no expectation of you to give. Tulip Street is 100% member-supported. Let's all do our part to support God's kingdom locally, domestically, and globally.
IN
PERSON
We have collection plates in the worship center every Sunday for cash or check offerings
OTHER WAYS
to GIVE
We all have something we can give to the Lord - time, energy, connections, resources, abilities, knowledge, and much more.